What a wonderful surprise: Denise Richards has just adopted a new daughter! Details about the age of the child are not available yet but as it is a domestic adoption, I imagine she is a newborn. In any case, it's got to be a very exciting time for their family.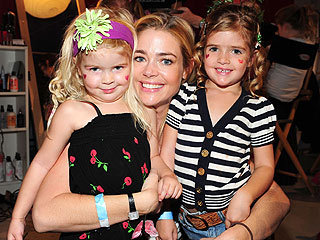 Denise with her two older daughters via people.com
Denise was already a mother to two girls, Lola and Sam [ages 6 and 7, respectively].
According to this article
, the girls chose the name Eloise for their new baby sister. Her middle name is Joni, after Denise's late mother.
I'm always happy to hear of celebrities who add to their families via adoption, which also seems to make it seem a little less 'strange' to people who are otherwise ignorant about it.