She may not yet be a household name to those disinterested in fashion, but my
favorite
model Natalia Vodianova has certainly lived a fascinating, real-life Cinderella story.
She grew up in Nizhny Novgorod, Russia, with her mother and two sisters, one of whom suffers from Cerebral Palsy. They sold fruit to make ends meet and at the age of 15, Natalia moved out on her own and opened her own fruit stand with a friend to continue to support her family.
Her luck suddenly changed when she attended a casting call at the suggestion of her boyfriend.
In her words
, "I had so little I had nothing to lose. I remember sitting in the corner at the agency and suddenly everyone was coming up and looking at me. I was confused and thought they were upset that I was there. At the time, my mother had a big debt and the debt collectors were doing some horrible things to her, and the owner of the agency lent me the money to pay it off before I'd earned it, and it was like a dream."
Natalia was told to learn English and managed to learn it in just a few months. Soon she was living in Paris and had signed with an agency. She immediately began booking international shows. At age 19, she married Justin Portman [a Lord and heir to a wealthy British family] and gave birth to their first child, Lucas. They had a lavish wedding ceremony the following year.
Natalia rose quickly to become one of the most sought-after fashion models in the world. She has had 2 children after Lucas, Viktor and Neva. Lucas is one of my favorite way-too-popular-to-actually-use boy names, second only to Oliver. I don't know what the significance of Lucas' name is but his middle name, Alexander, is a traditional Russian given name and number 3 on my aforementioned list.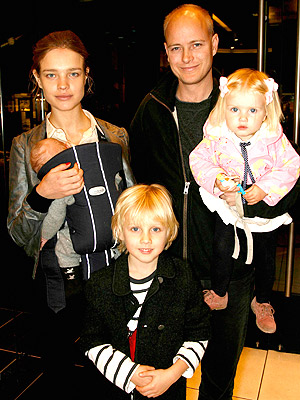 Viktor's namesake was [is? I'm not sure if he's still living] Natalia's grandfather who helped to raise her and her sisters when their father left. Neva is the name of a river in the northeastern part of Russia and, to me, is an intriguing name.
I think my favorite thing about Natalia Vodianova is her generosity. Her love of her native country, Russia, is evident in every interview she does and her efforts to improve children's lives there are nothing if not admirable: In 2006, Vodianova's charity
Naked Heart Foundation
built its first park in her hometown. Natalia was inspired to take on the task when she was in Russia with her son Lucas and discovered the lack of places for children to play. According to their website, 53 additional parks have since been built all over Russia. In 2010, she was awarded "Inspiration of the Year" by Harper's Bazaar UK for her charitable work.
One of NHF's play parks: Raduzhny, Russia
Of expanding her charity to include resources for children with special needs, Natalia has said, "There are so many forgotten children in orphanages and institutions," which she learned about from reading Alan Philps' book
The Boy from Baby House 10: From the Nightmare of a Russian Orphanage to a New Life in America.
"It taught me how children with disabilities are treated and also what would have happened to my sister if she had been abandoned in an institution. I want to find ways to keep children with their families and prevent needless suffering."
I learned who Natalia was several years ago after seeing her in a magazine. After a few years of intensive research on adoption, with a recent focus on Russia, and having read a lot about many regions there [including Nizhny Novgorod], I have a deeper respect for what she is doing and what she overcame. She is a beautiful person -in all respects as far as I'm concerned- and appears to be a loving and devoted mother.

I have recently read reports of a separation between Natalia and her husband but it doesn't seem to have been confirmed.
Note: I have read almost everything I can find about her and there are a few inconsistencies among certain minor details, so I've done my best to compile an accurate summary of her life and achievements.

All images found via Google image search.