At first, I just knew that she was Lionel Richie's daughter who was in the tabloids for hanging out with Paris Hilton. Then, she was Nicole from The Simple Life [the first season of that show was hilarious, I don't care what anyone says]. After that, she was Nicole Richie, one of many celebrities who got caught with drugs and went to rehab. Then, she wrote her first book, got a DUI, and went to jail for like an hour.
Now, she is also a fashion designer, humanitarian, wife to Joel Madden, and a mom to Harlow and Sparrow. Even though I have always been a fan, I also now respect Nicole very much as a person and a mother.
photo from nicolerichie.com
In today's society, we hear the stories of many celebrities who deal with drug addiction and even claim to have changed, only to read about their tragic relapses and overdoses. Nevertheless, Nicole seems to be one of those people who has let becoming a mother change her completely.
Joel and Nicole became parents on January 11, 2008 when Harlow Winter Kate Madden was born. They both liked the name Harlow [he is a fan of Jean Harlow and she likes the model, Shalom] and Nicole always liked the name Kate but wanted something less plain for the first name. Winter was apparently inspired by how "serene and quiet" both Harlow and the season are.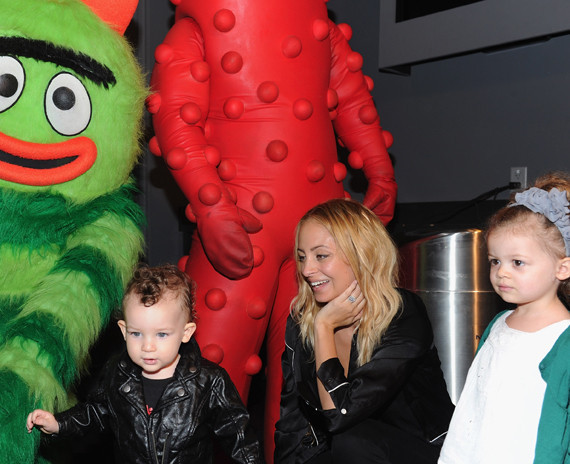 photo from huffingtonpost.com
When their second baby was born in September of 2009, I don't think anyone expected to hear that "Sparrow" was on the birth certificate. Obviously, they're fans of the -ow ending [Meadow is my pick if they have another girl]. Sparrow's middle names, James and Midnight, are a good complement to Kate and Winter but I'm not sure of the inspiration behind them. I did read that he was born during the middle of the night, though. In any case, the two kids' names certainly "go together" as far as having similar styles and flow.
While Nicole was pregnant with Harlow, she and Joel launched the Richie Madden Children's Foundation, a charity which has helped many children and families by donating baby items to those in need. They are also active in aiding other charities around the world, including raising money and awareness for Malaria prevention efforts, orphaned children in Haiti, women in the Congo, and providing clean water to communities in Africa.
After two children and several years together, Nicole and Joel were married in December of 2010. I hope they will continue to set a good example for their kids and to remind the rest of us that we should help others in whatever ways we can. I also hope that -as Nicole is an adoptee herself- they will consider adopting future children.
photo from nicolerichie.com




































In non-celebrity news, Bay got her first two teeth on Sunday!