I've always thought Niki Taylor was gorgeous but when I saw her on the most recent season of Celebrity Apprentice, I couldn't help but notice what a nice person she is.
She was very sweet to everyone, her whole team liked her, and I got the impression that she's a wonderful mother. Already a mom to 16-year-old twin sons Hunter and Jake and 2-year-old daughter Ciel, she recently announced that she is pregnant with a fourth child, due this November.
With the wide age difference, I'm guessing Ciel is more her style now than Hunter and Jake. Based on the fact that Ciel means 'sky' in French, I would assume they'd choose something else either
French
[maybe Fleur?] or
nature-inspired
. Here are some nature name suggestions:
Girls
Wren [I'm not a fan but a lot of people like it]
Nova [in keeping with the sky theme]
Iris [in case she wants to jump on the botanical name trend]
Luna [also sky-related]
Sage
Magnolia
Opal
Calla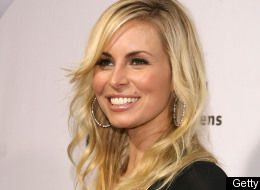 Boys
Reed
Ash [on its own or short for Asher]
Bay [I've seen this on boy lists before]
River
Birch
Heath
Those are by no means names that I would have on my list, just those that I think might fit with their daughter's name.